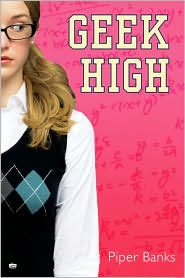 Geek High
Author:
Piper Banks
Series:
Geek High
(#1)
Publisher:
Penguin
How Received:
borrowed
At this school, everyone's a geek. And Miranda Bloom still can't fit in...

Miranda is a math genius with divorced parents, an evil stepmother, and no boyfriend in sight. She can't even fit in with the other geeks at the Nottingham Independent School for Gifted Students (a.k.a. "Geek High") because they have talents that are actually useful.

Miranda, on the other hand, is known as "The Human Calculator," which doesn't amount to much when people have, you know, their own calculators.

Then Miranda gets stuck planning the school's Snowflake Gala. And as she struggles to find a date and drum up some school spirit at Geek High, she finds that who you are means more than where you fit in.
Being a self proclaimed geek/nerd, I couldn't resist reading it the second I got it. Of course, that meant forcing myself to put it down to do homework, eat dinner, and take a shower. (And stay up while my mom was yelling at me to go to bed to finish it.) It was just that good.
I
loved
this book. The writing style wasn't the greatest, but the voice was original and funny, and she captured the feeling of geeks unable to fit in perfectly. Of course, I'm a literature geek and not a math geek - those equations just make my head hurt - but I loved the story nonetheless. The characters were believable, and I loved Miranda's romantic life with... well... you'll find out. :)
Overall Rating
: Easy 10/10
Geek High
or

Sloppy Firsts?:
Ooo, tough one!
Sloppy Firsts
is a diary, while
Geek High
is told from third person... I guess it all depends on which view you prefer. I'll take
Geek High
for today.
Happy reading!
~Nicole B.